Chocolate Muffins
Servings: 6 | Vegan, Gluten-Free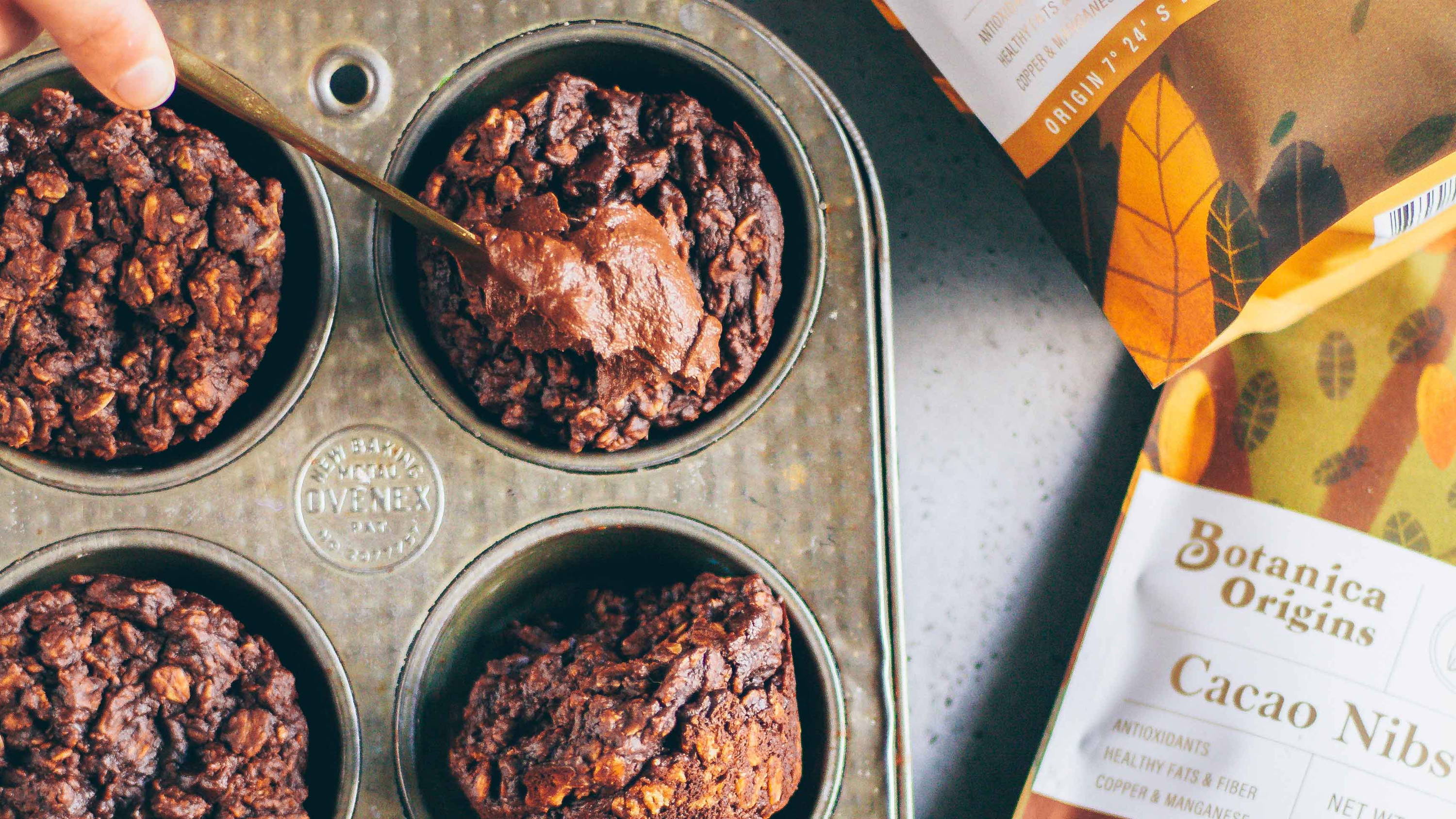 ---
Ingredients
½ cup Plant Based Milk
1 tbsp Apple Cider Vinegar
2 Medium Avocados, mashed
1/2 cup Maple Syrup
2 tsp Vanilla Extract
¼ cup Peanut or Almond Butter
2 cups Rolled Oats (try sprouted!)
¼ cup Organic Raw Cacao Powder
1 tsp Instant Espresso Powder
2 tsp Baking Powder
¼ tsp Baking Soda
¼ tsp Salt
½ cup Dark Chocolate Chunks
For the avocado mousse frosting
2 Avocados
½ cup Organic Raw Cacao Powder
1 tsp Vanilla Extract
¼ cup Maple Syrup
Pinch of Salt
2 tbsp Plant Based Milk
Cacao Nibs (to sprinkle)
---
Directions
Preheat the oven to 350°F.
Grease a muffin tin or line with muffin liners.
In a large mixing bowl, whisk together milk and apple cider vinegar. Allow it to sit for 5 minutes. Add mashed avocado, maple syrup, vanilla, and nut butter. Whisk until combined.
Add oats, cacao powder, espresso powder, baking powder, soda, and salt. Use a spatula to combine until a thick batter forms. Fold in dark chocolate chunks.
Fill each muffin liner until almost full.
Bake for 28 minutes. Allow cooling in the muffin tin for 5 minutes before transferring to a wire cooling rack.
While the muffins are cooling, prepare the frosting. In a high-speed blend, add all frosting ingredients. Blend until creamy, adjusting sweetness as needed (add a tbsp more maple syrup if desired).
Frost muffins once cooled. Sprinkle with cacao nibs.